Find local and international employees in Africa!
Are you looking for candidates in Africa? Our recruiters in Africa are willing to help you out! Since 2011 JobnetAfrica, previously called Werk in Afrika Recruitment Services, has been active on the international or expat recruitment market to find employees in Africa for employers on location. Our recruiters in Africa are highly passionate people that worked part of their careers in Africa and have a specific bond with the African continent.
Expat Recruitment
Changing our name in February 2016 did not change the quality of our recruitment service. We are specialised in expat recruitment and selection of specialists and management for start-ups up to middle and even large scale employers. Our database and network exists of professionals that are looking to work and live in Africa, have done this before or still do. Find your future international employees in Africa with JobnetAfrica!
The candidates our recruiters in Africa attract range from young professional specialists straight from school in Europe, America or Australia up to high end management with years of Africa experience. We target all international and diaspora candidates interested in working and living in Africa. Our database and network therefor is rather specific and designed to find the right employees easily.
Our Partner Network
Over the last 7 years, JobnetAfrica also built up a hand picked and audited partner network with recruiters on the ground in a number of African countries and we are constantly expanding. So we can also accommodate your search for local employees throughout Africa. Read more about our local recruitment services at the bottom of this page.
More information about our recruiters in Africa
Want to find international employees in Africa for your business on the continent or want to know more about JobnetAfrica's service? Contact our recruiters in Africa through contact@jobnetafrica.com.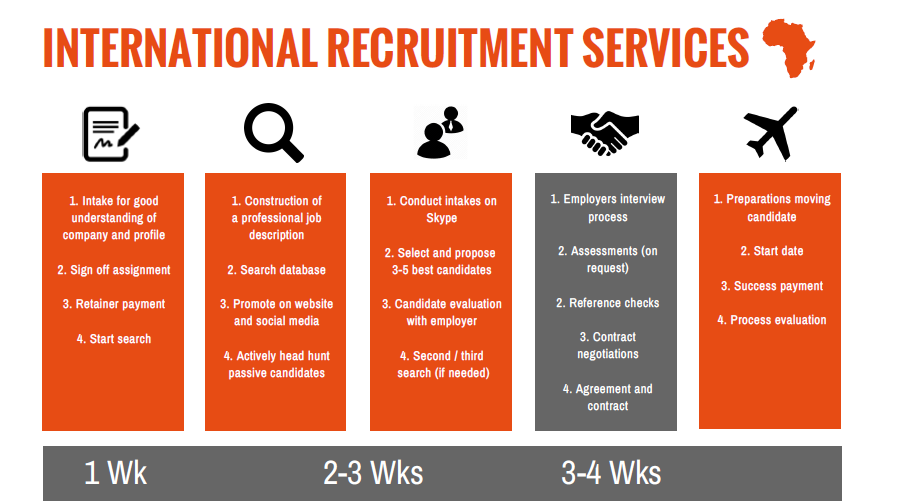 1. Employer intake
The first thing we do is to get to know you and your company or organisation. We take the time to either visit your company or organise a meeting on Skype to map your needs. What kind of branch are you active in, area, what is the company culture, what are the vacancy specifications, must haves, nice to haves, etc. We can help design your job description or advice on the package for the particular candidate.
2. Agreement
After the employers intake it is up to you if you want to work with JobnetAfrica for your coming recruit. We never ask for exclusiveness as it is our job to deliver the best candidate, independent of other recruiters or your own network. Our recruiters in Africa just find you the best international employees in Africa!
3. Recruit and Head Hunt
Time to start the search. We have several tools to explore the candidate market to find you the best expat for the job.
Our database
Our expat recruitment database filled with thousands of international candidates interested to work and live in Africa is used to contact the right people. With great new features built in our system we can make the right match easily using standard and variable search criteria.
Job Advertisement
We post your vacancy on our JobnetAfrica website anonymously and promote the job through social media like Facebook, LinkedIn, Twitter and our vacancy newsletter. The incoming applicants are selected as part of the shortlist.
Head Hunt; find international employees in Africa
Searching on LinkedIn usually gets great results. We comb through the African market scrolling for the right matches. Our huge network on LinkedIn really helps. Also we use our network to head hunt the best professionals through word of mouth. We recruit people that were not even aware they were interested in a job in Africa. We track down the best international employees for your business in Africa.
4. Interviews
Once we have determined the shortlisted candidates we make an interview plan. All candidates are interviewed personally at our office in the Netherlands or through Skype. We use proven interviewing techniques in order to get the best results. Every interview takes at least 45-60 minutes. We do not only check if the candidate matches professionally, also the practical situation like family, availability and required package are checked.
5. Proposal
When we find a good candidate we propose him or her. We produce a report of the interview. Together with the CV we send it to you. It is then up to you whether you are interested to have an interview with the candidate yourself. We can take over all communication and planning in order to save you more time. Interview planning is our second nature!
6. Additional expat recruitment services
Besides our regular expat recruitment procedure, we offer additional services to come to the right candidate choice. Through customer specified tests, training or assessments we can thoroughly check the applicant in order to make a match up to your expectations. Please contact us for a tailor made solution.
7. Hiring
The process after your first interview is determined by yourself. Second, third interviews, flying candidates in to come and feel the company, negotiations. We are there to help from the side-line and love being involved organising. All in order to secure you to find employees in Africa, the best international candidates around!
Once you contracted the new hire we stay in touch until the person arrives at your doorstep for his or her first working day. Even long after we keep following both candidate and yourself.
Find the right local employees in Africa
Were you actually looking to hire local employees in Africa? Did you know JobnetAfrica also offers local recruitment services? Through our handpicked partners on the ground we deliver top quality searches in Senegal, Ivory Coast, Ghana, Kenya, Tanzania, Rwanda, Uganda and Ethiopia, and expanding. JobnetAfrica remains your single point of contact and manages your recruitment projects for you.
Minimum monthly wages are USD 1.500 gross monthly.